I really wanted to proudly announce the completion of the pencil works for the FedCon-Stuff, but... I just watched the second episode of "My so called Life" and I sorta kinda felt the necessity of doing another LoI-Post. Don't know why... ;)
The long-time reader won't be very surprised by Ms. Danes' ascension into the ranks of the Ladies of Interest since the simple glowing effect of her Yvaine in Stardust left me that ...
enchanted
. So I only hesitated shortly when I saw her smiling from a DVD-Box-Cover in the nearby MediaMarkt. "Willkommen im Leben" was the title and I remembered how the ex-fellow-student (is there an english word for "kommolitone"?)
reminisced
in nostalgia and Claire-Adoration some time ago.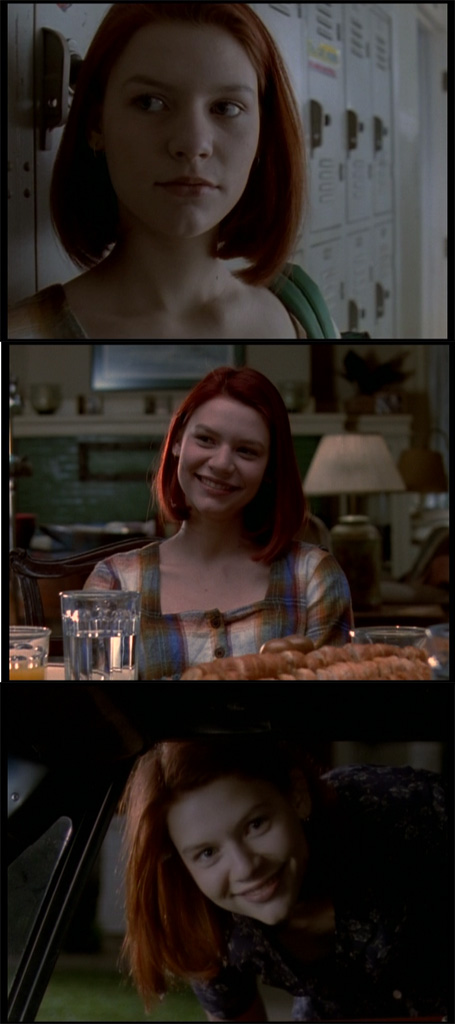 I never saw an episode of that show before last week, so nostalgia's out of the picture - but just after two episodes I think I can already understand why it's so loved by lots of people. It really IS good, as far as I can tell (just google it). Plus, there's this girl, you know. Not so much with the glowing but almost unbearable amounts of cuteness. Examples on the left.
Teenage-(No Mutant, No Ninja) Batch would've fallen madly in love with 15-year-old Claire Danes instantly like 50% of the viewers did (the other 50% fell in love with Jared Leto, I hear), while Twen-Batch is of course much too grown-up for that (prefering the older, glowing version ;) ).
Anyways, learned some things about Claire when reading a biography:
- She had her first on screen kiss before having her first real one. Huh. That must've been ... difficult, I think. She almost complained about having to kiss (a then 22 years old) Jared Leto every day- I guess millions of teenage girl viewers wanted to have her problems.
- She was a persona non grata in Manila and her movies were banned in the phillipines after she ranted about the city in an interview (mentioning rats and the lack of a sewage system).
- She turned down the female lead of Titanic because she didn't want to be typecasted for "romantic" roles. She probably just didn't want to kiss Leonardo DiCaprio again ;).
- She did star in an unhealthy lot of flops - no wonder she stayed under my radar for so long.
But that time's gone, I will not rest before I've seen all those bad movies just because of her. Even Mod Squad. ;)
P. S.: Gamer, Flatmate: I want this Terminator-Evening ASAP! Maybe we could start with the third part?